The Intriguing History of Villa Woodbine
The rustic splendor and modern charm of Villa Woodbine wasn't created overnight. In fact, our Miami, FL event venue boasts a storied history. This historic mansion was built in the 1930s for Mr. and Mrs. Charles Boyd as their winter home away from the Wisconsin cold. As the owner of the Appleton Paper Company, Mr. Boyd spared no expense when it came to his residence.
The estate passed to the Boyds' daughter Martha in 1948, but it proved too difficult to visit when her children reached school age. They began leasing the property, and in the 1960s, the home became the site where the Bay of Pigs invasion was planned.
Today, Bill and Terry Hansen lease the property and share its beauty with the community. They've hosted thousands of weddings, corporate events, and even celebrities, including Michael Jordan, Usher, the late author Ann Rice, Regis Philbin, and Kathy Lee Gifford and her late husband Frank Gifford.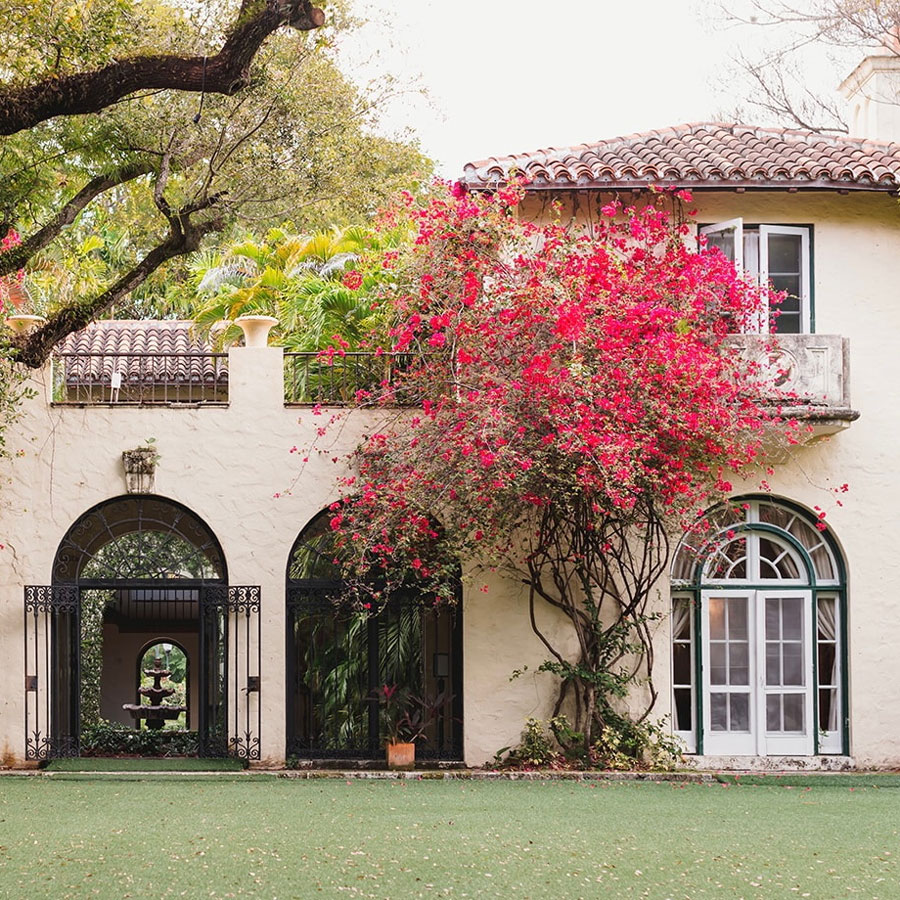 A Testament to Luxury Design
When architect Walter De Garmo designed Villa Woodbine, he left no detail untouched. He is renowned for his stunning use of Mediterranean-Renaissance styles, as well as open-air layouts, Spanish arches, and sweeping courtyards. Cuban design influences nearly every inch of the property. For example, colorful Cuban tiles can be found in the dining room, and much of the furniture was handmade by Cuban craftsmen. Unfortunately, much of De Garmo's other work isn't still standing today. But those who visit Villa Woodbine have the chance to take in the genius of this incredible architect.


I cannot put into words how amazing this venue is and how helpful the BHC team that you can book with Villa Woodbine has been. We had to move our wedding twice due to the pandemic and both times the BHC team were sublime. So helpful, so kind, and unbelievably knowledgeable.

Last, the wedding was stunning! I cannot recommend this place enough!
My husband and I just got married at Villa Woodbine this past weekend. From the first interaction we had with Eden and the venue we were so impressed and very well taken care of. The venue helps you with just about everything - flowers, vendors, food, alcohol, cigar roller, photo booth, deserts, midnight snacks... I chose not to get a wedding planner and thought I was able to do it all since the venue was so inclusive and helpful. I would def. recommend you to consider this gorgeous venue as I know all of my guest were blown away. It was truly a fairytale wedding for us.
We cannot say enough good things about our Villa Woodbine wedding! The venue itself it's absolutely gorgeous and photographs SO well! We loved that the venue provided catering through Bill Hansen, which was delicious and highly reviewed by our guests. Overall amazing experience with Villa Woodbine and the team. Highly highly recommend!!!
I couldn't have asked for a better venue and group of spectacular individuals to work with! The Villa offers everything and anything a bride and groom could hope for! From the beautiful decor to delicious food, 5 stars doesn't justify how incredible Villa Woodbine is! Thank you for all your hard work and dedication!
Villa woodbine is the most beautiful and magical wedding venue you can think of. It honestly feels like you're in a different country. I got married in September 5,2021. The food was perfect, the drinks are amazing. All my guests has such an amazing time! Please please don't think twice about getting married here! You won't regret it.